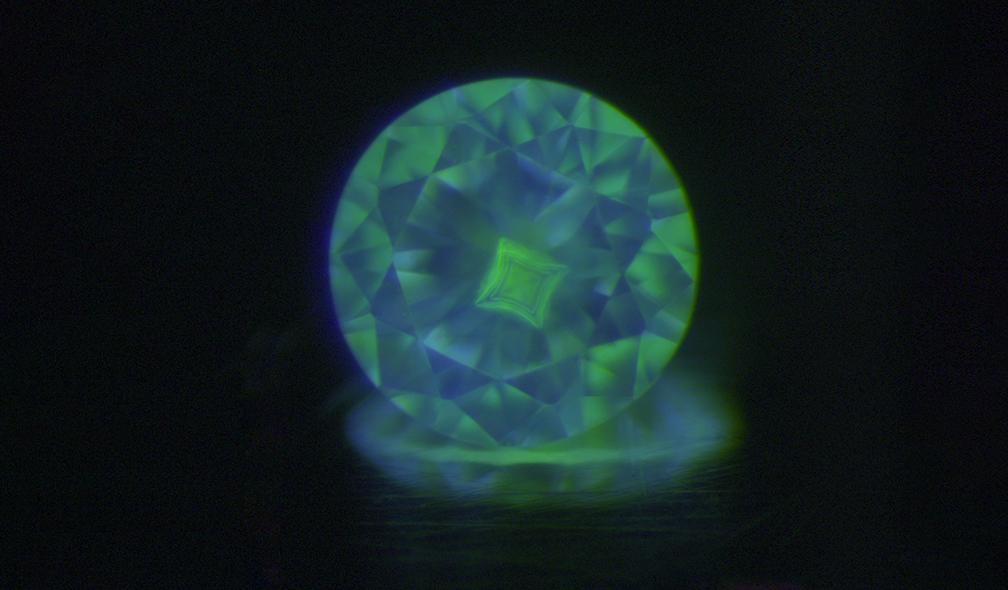 A "Maltese Cross" pattern seen in a natural diamond viewed with GGTL DFI System
Developed in-house, the DFI is a performant instrument dedicated to the identification of synthetic diamonds. The operating principles are simultaneously direct observation and luminescence spectroscopy under various UV and laser excitations. The instrument also allows Raman scattering spectroscopy.
Currently, the DFI is the only commercially available instrument capable of unambiguously identifying a natural or synthetic diamond and imitation in melee parcels, without the need for any further testing (no "refers").
In this micrograph, the observed pattern is a "Maltese Cross". This diamond started its growth with a mixed cubo-octahedral structure, with yellow-green luminescence due to S2, S3 centres, then it continued its growth with an octahedral structure with N3 centres which generate blue luminescence. The N3 centre is the cause of the very classical fluorescence observed in the majority of diamonds.
Do you need this micrograph in full resolution for an article, a DUG dissertation, etc.? Do not hesitate to contact us.